Based on your location it seems like you might be looking for the Canadian site.
Would you like to continue, or switch to the Canadian site?
Exhaust Fan Buying Guide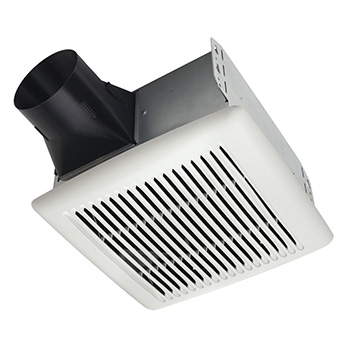 When was the last time that you touched or thought about that loud, dirty machine in your bathroom ceiling? A year ago? Maybe never? A lot of people are nervous to even look at it, let alone touch it! But changing out your bathroom's exhaust fan doesn't have to be scary, intimidating or menacing, as long as you know the answers to a few simple questions.


What is the size of your bathroom? This is important so that you purchase the proper CFM. CFM stands for Cubic Feet per Minute, and it tells you how many cubic feet of air your fan will move in a minute. You want to make sure that you're buying a bath fan that is going to properly ventilate your space, not over- or under-ventilate it.

For bathrooms 45 square feet and less, purchase a 50 CFM fan
For bathrooms 46 square feet to 75 square feet, purchase a 70 CFM or 80 CFM fan
For bathrooms 76 square feet to 105 square feet, purchase a 110 CFM fan
For bathrooms over 105 square feet, purchase a 150 CFM fan



What is the size of the opening in your ceiling? This can be easily figured out by taking off your exhaust fan's grille and measuring the length/width of the opening. This information is important so that you buy a fan that is the same size as your current one or larger. If you buy a product that is smaller than your current fan, you'll have some issues with installation.


Do you have attic access over the bathroom where you want to replace a bath fan? This is an important thing to know because it tells you what series of fan you should buy. If you don't have attic access, you'll need to buy a fan that can be installed from the roomside (for example, see the Roomside Series from Broan-NuTone). If you do have attic access, then you're in luck, and you can buy virtually any bath fan!


What type of bath fan do you want? There are a ton of different types of exhaust fans in the marketplace today, so you have more options than ever when picking out a new fan. Here are some examples of bath fan types you can choose from:








After you answer these simple questions, you're ready to make your first bath fan purchase. Head on over to your favorite hardware store or
check out our product lineup
and purchase a brand-new, updated exhaust fan!