Based on your location it seems like you might be looking for the Canadian site.
Would you like to continue, or switch to the Canadian site?
Easy DIY When You're Stuck at Home
With many of us still stuck at home, there is one question on our minds. What else can I do to occupy my time? You've already binge watched your favorite TV shows and perfected the latest TikTok dance. You've cleaned your house a dozen times, tried cooking those new recipes and re-organized your furniture, again. So now what? Now it's time to finish that DIY project, and there's no better place to start than the bathroom.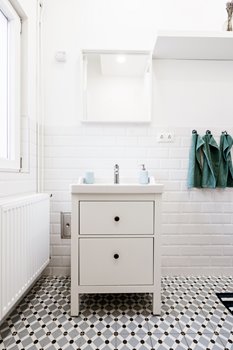 (That's right, it's time to roll up your sleeves and get your DIY on.)

Humans beings are interesting creatures. When we're hunkered down at home, we get creative. We get inspired. DIY projects are fun, exciting and it's rewarding when they're complete. But, they can also be time consuming.

What is one of the easiest DIY updates to do in your bathroom? Just look up. It's your bath fan. And chances are it's dusty, dingy and needs a face lift.

When a typical do-it-yourselfer decides to update their bathroom, they start by applying a fresh coat of paint. Quick and easy, right? On average, with prep time, it takes 8 hours to paint a bathroom.* Next up is the mirror, towel bars, and maybe a new light fixture. (Deep breath and sigh.) The fact is, it takes time to make these updates, and maybe even an electrician.

How long does it take to update your bath fan? Less than five minutes, thanks to Broan-NuTone's new bath fan upgrades. It will take longer to grab your ladder than it will to install one of these upgrades.

Here are 4 easy DIY upgrades you can make right now:
With Broan-NuTone's quick and easy bath fan upgrades, you can refresh your bathroom in minutes. These are surely some of the fastest, easiest and most affordable bathroom DIY's you can make while you're stuck at home.
* Source:
https://www.thespruce.com/how-to-paint-your-bathroom-the-right-way-1822373