Based on your location it seems like you might be looking for the Canadian site.
Would you like to continue, or switch to the Canadian site?
How to Choose the Right Range Hood for Your Kitchen: A Comprehensive Guide
[April 3, 2023]
If you're remodeling your kitchen or building a new home, installing a range hood is essential. You likely already have a range hood or a microwave over your range. [Quick note, we call it a range, but you might call it a stove. In either case, we're talking about the cooking surface you use to cook food.] But it's crucial to make sure that what you have is doing the job you need it to do. It should remove the pollutants and excess moisture from your range. It has to be the right size and have enough power to do that. If it can't or doesn't effectively remove pollutants from your air, your home and health could be at risk. Too much moisture, for example, can cause cabinets to warp and wallpaper to peel. Too many volatile organic compounds - the stuff coming off your food as you cook - floating in the air could irritate allergies and asthma. Choosing a range hood can be daunting because it has to meet those specific criteria to be effective and look good at the same time.
Width
Matching the width of the range hood to the width of your range or cooktop is crucial for optimal capture performance. A proper width ensures that cooking fumes and moisture won't escape into your kitchen, which can cause unpleasant odors, grease buildup on cabinets, warping, and poor indoor air quality.
Width of custom cabinet
If you have a custom cabinet in your kitchen, select a built-in range hood (power pack or insert) that matches your range's width. A proper width ensures that the range hood will remove the smoke, moisture, and fumes from your range. Be sure to measure your cabinets as well to ensure a proper fit. You may need to install a narrower hood to fit inside your cabinets.
Mounting height
The height at which you mount your range hood is also critical. Please refer to the special instructions for your hood type to determine the mounting height of your particular hood. Some things that go into that calculation are the type of fuel your range uses (gas or electric), the width of the range, and the type of hood (under cabinet, chimney, island, built-in, etc.).
CFM
The power of a range hood is measured in the amount of air it moves, measured in CFM (cubic feet per minute). Selecting the correct CFM based on your range specifications will ensure that the range hood exhausts smoke, moisture, and fumes properly. The general rule is to have 100 CFM for every 10,000 BTUs. But this can vary depending on the type of fuel (gas or electric). Refer to the special instructions on your range and range hood to get the proper power level for your home. If your scenario requires a range hood that moves over 400 CFM, you may be required to provide make-up air.
Cooking Level and Range Type
Another factor to consider is your cooking style and range type. While most range hoods provide adequate capture of cooking effluents for conventional ranges and electric cooktops, high-performance,
pro-style
range hoods are needed for professional ranges. The higher BTU output of gas cooktops requires a range hood with a higher CFM (fan speed) to capture cooking effluents effectively. You might also cook in a way that releases more pollutants into the air. Searing and frying, for example, emits a lot of smoke, grease, and other fumes into the air. See the special instructions on your range and range hood for more information.
Range Hood Styles
Now that you have considered your kitchen environment and any design constraints, you can select your ideal style range hood. Range hoods come in many styles and shapes, offering stylish solutions to match your design aesthetic.
Undercabinet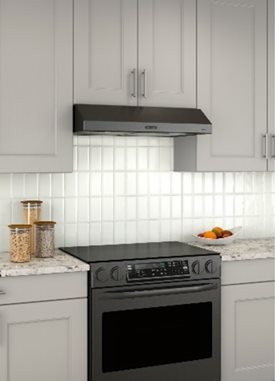 Under-cabinet range hoods are popular because they provide excellent ventilation while preserving precious cabinet space. An undercabinet hood is likely the right product if you plan to keep existing over-the-range cabinetry. Installation of these hoods is simple enough for most DIYers via our EZ-1 Install System, making swapping out an old, outdated model fast and easy. Due to cabinetry design and trim detail, you may need a professional to install your new range hood for more complex kitchen setups.
Chimney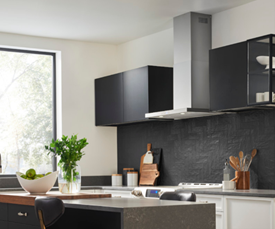 Chimney range hoods are a stylish focal point for your kitchen. Install a chimney hood approximately 24" – 28" above your cooktop. This is a generality, and you should consult the installation instructions for your hood. These range hoods are quite popular because they can transform the look of your kitchen. The most popular style of hood is the classic pyramidal shape. Other styles include rounded glass, box, or a sleek T-shape that could pair well with linear Modem décor, among many others.
Island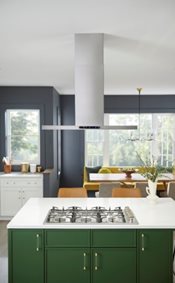 Island range hoods offer many of the same great styles as chimney hoods but are designed for use over an island or peninsula. These range hoods provide the performance level needed in the open concept of an island-based range. Island range hoods are finished on all four sides to give elegance and beauty no matter where you stand in your kitchen.
Built-In
Built-In, also called power pack or insert, range hood styles can satisfy various design aesthetics. Built-in range hoods are designed to fit inside a custom cabinet or enclosure. The design possibilities are endless with a built-in range hood.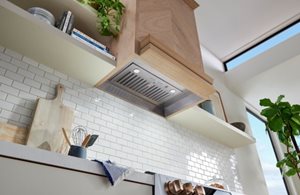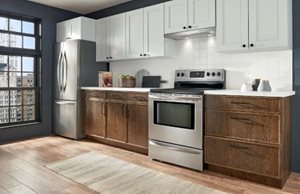 Downdraft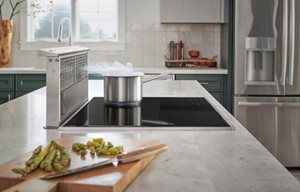 Downdraft range hoods install behind your range or cooktop and come in sizes that match most. The type of range or cooktop that pairs with a downdraft will not have a vertical backing; the controls will be near the face on the side(s) or the front of the range or cooktop. The downdraft fits behind the range or cooktop within your cabinetry and exhausts out of the home in almost all directions except upwards. The downdraft is often installed in an island but can be installed in any counter, assuming there is room for it. A downdraft works by rising out of the counter and pulling air down into the hood. When raised, the height of the downdraft is between 9" – 18", depending on the model you choose. During use, the overall height is low enough to maintain the openness of your kitchen area and sight line to the surrounding areas. The uniqueness of this range hood is its efficient and effective ventilation and the way it can be "stored away" flush with your countertop when not in use.
Professional Range Hoods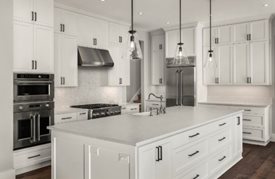 Pro Canopy range hoods are similar to the type used in professional kitchens. They are often quite large and work with large or high-powered gas ranges. Of all the indoor range hood types, the pro canopy range hood has the highest CFM capacity to properly and efficiently ventilate large ranges. This may be the look and performance you need to keep your kitchen well-ventilated if you are a gourmet cook.
Outdoor Range Hoods
Outdoor range hoods provide ventilation to outdoor entertainment areas, generally over a grill. Even though you are outdoors, heat and other emissions get trapped under the roof. The outdoor hoods come in an undercabinet, chimney, island, or built-in style with high-performance ventilation based on the environment in your outdoor area. These hoods are extra-deep and wide for capture efficiency to cover a grill's surface area. They are made from special corrosion-resistant stainless steel to provide long-lasting beauty from the extreme grill temperatures and outdoor elements it will experience. No matter the setup of your outdoor entertainment area – there is a range hood to capture and provide the look and design you want.
Congratulations! Selecting a range hood style that suits your needs is an important step. Narrowing the field down from here to a hood with the best performance is your next step, and you can learn about that here,
"
Guidelines For Choosing
The Best Performance Range Hood For Me
."
---