Based on your location it seems like you might be looking for the Canadian site.
Would you like to continue, or switch to the Canadian site?
Importance of a Range Hood
The Importance of a Range Hood
Or, Why is a Microwave Range Hood a Bad Idea?

A lot of thought and intention goes into choosing the right appliances for any kitchen. Color, finish, size, and location are all major decisions. Big families need big refrigerators. Young families may need a dishwasher with bottle washing capabilities. The aspiring gourmet is likely going to want a multifunction gas range. And anyone with teenagers, college kids, or a busy schedule needs a microwave.
Ah yes, the microwave. Too small to make space for it next to another larger appliance, but too large to put on the counter. So, where do you put a microwave? As microwaves have evolved the options have increased dramatically. They can be placed in a drawer in the island, on a shelf near the refrigerator, or in a sturdy cupboard. The one place it should never go is above the range, even though some incorporate a ventilation fan.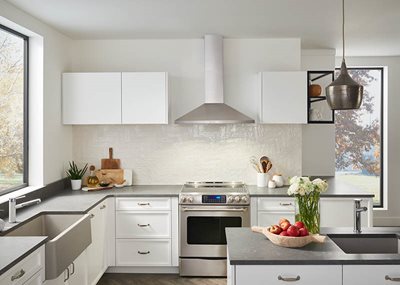 Over the range (OTR) microwaves may save space, but they are detrimental to the homes indoor air quality. At its core, the OTR is a microwave, not a
range hood
. And while many OTRs can provide ventilation because it has a fan, they do not provide the effective
capture
that a range hood is designed to achieve. Most OTR's don't extend far enough over the range to capture steam, smoke, grease, and combustion fumes. The typical OTR only extends 16 inches out from the wall, which gets you right in the middle of a range and provides no coverage of the front burners. All of the steam, smoke, etc. from those burners is released into the air, causing the home's air quality to get worse. That's right, without proper coverage smoke, grease, combustion fumes, and whatever else is coming off of the food being cooked will be breathed in. This does not contribute to a healthy home.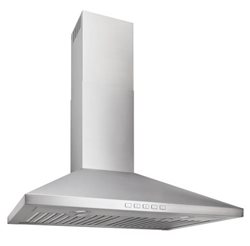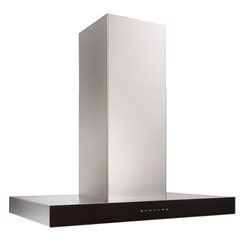 A properly sized range hood will have great coverage and capture ability. Even at 20 inches out from the wall, a range hood with a good blower can achieve effective results. Sizing a hood is very important. A good rule of thumb is to move 10 Cubic Feet per Minute (CFM) for every 1000 BTUs. So, a 10,000 BTU range should be paired with a 100 CFM range hood. For those really big ranges the hood may need to reach into the 600 CFM+ level.
Learn how a hood's power is measured
When moving that much air, it is important to pay attention to the room size and local codes to see if
make up air
is needed. Make up air is outside air that is added to the air being brought into the hood from the room. This ensures that the hood is moving a good amount of air but that it's not depressurizing the home, thereby bringing in air from a chimney or exhaust vent.
A great
range hood
can also be
beautiful
. They can be a centerpiece of a kitchen, hide behind the range, or mount into the ceiling. A designer can truly stretch what's possible by wrapping a
power pack
in whatever their imagination can dream up. Ship lap, chrome, ornately carved wood…the possibilities are endless. Range hoods also come in many colors, shapes, sizes, widths, and power levels and can be full of great features like LED lights, heat sensors, capacitive touch controls and more.
So, when putting together an appliance package or designing a beautiful kitchen, put the microwave out of sight and create a truly beautiful, healthy kitchen with a well built and designed range hood.
Learn how to replace your OTR with a Range hood