Home is Where We Breathe Most: 4 Steps to Clear the Air You Breathe at Home
As we spend more time indoors, it's important to be aware of the air quality in the place we breathe most.
Sealed up homes can cause poor indoor air quality (IAQ) and lead to higher amounts of indoor air pollutants and allergens.
Most Americans do not associate allergy symptoms, lingering food odors or foggy bathroom mirrors to unhealthy indoor air. While most American homeowners' own appliances that promote air flow, few use them properly.
Luckily, Improving IAQ and the side effects that come with it is a matter of a few simple steps. Follow the tips below to protect your home's structure and improve the air you breathe.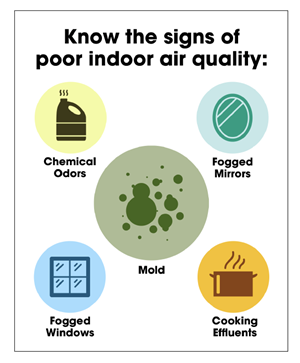 Watch Your Chemical Count
Disinfectants are great for surfaces, not so great for the air. When using household cleaners, be mindful of the harmful chemicals that can circulate into the air you breathe. To be safe, turn on your fresh air system, range hood or open a window before, during and after the use of these products.

Keep humidity levels in check
It's more than just a haze – foggy mirrors, damp towels and stale odors are all indicators of poor indoor air. Avoid mold, mildew and other airborne dangers in bathrooms and adjoining rooms by turning on the vent fan for 20 minutes before during and after showering.

Not sure if your fan's working? Easily test the effectiveness by holding a piece of tissue paper near the fan – if the fan is removing air properly, the paper will be drawn against the fan cover and remain there as long as the fan is on.

Cook meals, not pollution
The kitchen is the heart of the home, but it's also the primary source of poor indoor air quality. Excessive moisture, smoke, and airborne dangers can quickly infiltrate every room in your home, especially with a gas stove. Be sure to turn on your range hood before during and after cooking to remove the excess pollutants created from preparing meals.

Removing Dust is an absolute MUST
Keep dust and debris at bay. Dust is basically shed skin cells and pet dander. Dust mites feed on those particles and tend to thrive in bedrooms on linens and blankets. Wash linens often in very hot water and replace pillows regularly or cover existing pillows with antiallergenic covers.