Based on your location it seems like you might be looking for the Canadian site.
Would you like to continue, or switch to the Canadian site?

Close
Grille/Covers
Broan® Easy Install Ceiling Exhaust Fan Grille/Cover with LED Light (single unit)
The Broan® bathroom exhaust fan grille/cover (FG600S) is a unique lighted ventilation fan grille which allows you to upgrade your non-lighted ventilation fan or tired incandescent fan/light into a sleek fan/light with bright, efficient LED lighting quickly and easily. This lighted grille/cover is designed with fewer ventilation slots to stay clean longer and is a crisp, bright white to coordinate with today's popular ceiling paint colors. Installation can be completed in 5 minutes or less thanks to a quick connect pass-thru plug. No extra wiring is required and the grille is sized just right to conveniently cover existing dry wall cuts for an easy, no cut install.
---
Quickly and easily installs in under 5 minutes.
Brighter white finish designed to coordinate with the most popular white ceiling paint colors
Grille is designed with fewer ventilation slots to stay clean longer
No cutting of ceiling material required. Grille hides existing drywall cuts
No additional wiring needed with a quick connect pass-thru plug. Simply plug the new grille into the fan receptacle and the motor into the grille's pass-thru plug
Soft LED lighting illuminates darker areas of the bathroom; 750 Lumens; 3000K Color Temperature; Rated Life of 25,000 hours
Grille Dimensions: 11" x 9-3/4" x 2"
Includes two sets of grille springs for use with multiple ventilation fan models
Compatible with existing ventilation fan housing dimensions of 7½" x 7¼" and 8¼" x 8"
UL approved for use with the following current and legacy models:
Broan® 576, 670, 671, 674, 676, 678, 679, 680, 683, 684, 688, 689, 770, 771, 784, 679L, 683C, 683L, E050, E070, ED50L, HD50, HD50L, HD80, HD80L
NuTone® 695, 763, 6950, 50NT, 684NT, 696N, 696N0, 763N, 763NC, 80NT, 80NTE, HD50LNT, HD50NT, HD80LNT, HD80NT
Nautilus N671, N676, N678, N679, N680, N688
ABC Co. NCF80; Acme VQ50, VQ80; American Coolair CF670A1151, CF684A1151; Carnes VCDD005C, VCDD008C; Fantech 6CEV005A, 6CEV008A; Greenheck SP-C50; Jenn Fan FF50, FF50E, FF80; Penn Z1, ZL1, ZL2; Twin City T050, T080; US Fan Intl UVQ50, UVQ80
The Easiest DIY. Ever.
A dingy and discolored fan grille/cover can be an eye sore to your updated bathroom. And a loud or noisy fan can keep you from using it. Keep every corner looking and smelling fresh with a new Broan or NuTone fan grille. With various styles, a color that matches the most common ceiling white, lighting options, and a 5 minute or less install time, it's one of the fastest, easiest and most affordable bathroom upgrades you'll make.
Broan Standard Bath Fan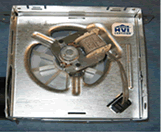 Label Placement
Remove the grille by pulling down 2 inches. Reach behind the grille and squeeze the mounting springs to remove the grille. The model label is located in the corner closest to the outlet. Some fans may have the model stamped into the motor plate instead of a printed sticker label.
Match by Fan Size
How to Measure Your Fan and Grille/Cover
To find the size of your fan and grille cover, measure the length and width of the metal housing. Or, you can find the model number stamped inside the metal housing.